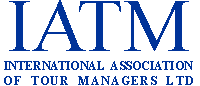 ABOUT US

IATM is the professional Association of experienced Tour Managers (Active Members), founded almost forty years ago, now having members all over the world, and is lobbying for full professional recognition.
IATM is the body which represents the views of Tour Managers at national, European Union and international levels.
IATM provides a dispute procedure upon legitimate written complaint and, when necessary, operates a disciplinary function over its members or a defence procedure on their behalf.
IATM organises educational tours, visits and programmes, promoting and encouraging among its members the highest standards of performance and knowledge.
IATM publishes regular newsletters and an annual directory, providing a specialised forum within the market-place.
IATM holds an Annual General Meeting and bi-annual Convention, where members can exchange views, help form Association policy and attend seminars and lectures.
IATM has a social aspect and cooperates fully with other trade organisations.
---
History
In 1962, 12 European Tour Managers met together in London to found the International Association of Tour Managers. Their purpose: to exchange information, views, experiences and difficulties encountered. At this stage, the Association was little more than a social club.

Today, IATM has come to be recognised as a forum for professional Tour Managers, promoting their services and representing their views at national, European Union (EU) and international levels. Now truly an "International Association", IATM's members are to be found in EU member states, Switzerland, Norway, North America, Australasia, Republic of China and Israel.

Events contributing to this development include the adoption of a Constitution under the British Company Acts 1947-68, and incorporation as a Company Limited by Guarantee in 1976.

To cope with the worldwide growth of the organisation, the increased political interest and the greater need for accountability and professionalism in tourism, amendments to the Constitution were introduced in 1983. The result: IATM was divided into geographical Regions, with each Regional Chairman.

At the 1984 International AGM in Brussels, it was decided to create a European Community Liaison Committee (ECLC) to actively represent the views of Tour Managers within the then European Community (EC). Since then, recognition of IATM has been demonstrated through invitations to sit on various EC committees, including that of the European Year of Tourism in 1990. Specifically, IATM has been working toward recognition of the profession of Tour Manager: Setting up of a scheme for the Initial and Continuing Higher Education of categories involved in the "Accompanying and Hostessing" sector of the Industry. Efforts bore fruit in 1992, when the EU approved a syllabus for the training of professional Tour Managers. This course is already in operation in Breda, the Netherlands, and will provide the basis for courses in other EU countries.

Recognising the value of advance information of proposed EU legislation, and thus being able to influence its outcome, in 1994 IATM became a full member of ETAG (European Tourism Action Group).

Now, since 1999, through cooperation with the Netherlands Institute of Tourism and Transport (NHTV) in Breda, IATM is able to offer a recognised Tour Management qualification for its members.